How to Capture Great Remote Testimonials
Are you looking for high quality remote video testimonials to showcase your customer successes with your product or service? Capturing remote customer testimonial videos is an effective way to show potential customers the value of what your company has to offer.
In this blog post, we'll give you tips and tricks on how to get great remote video testimonials that are engaging and impactful. We'll also provide advice on how to use remote customer testimonial videos effectively in your marketing strategy. By the end of this post, you should have all the information and insight you need to capture great remote video testimonials with confidence. Let's get started!
Why Remote Testimonials are Important
Customer testimonials are a powerful tool to both attract and retain customers. They provide social proof that your product or service is worth investing in, and they give potential customers the validation they need to make their decision. Remote customer testimonial videos can be even more impactful because the video feels incredibly authentic.
We are all used to jumping on a Zoom call these days, and remote video testimonials have the look and feel of one of these calls. Although, after reading this blog post, we'll hopefully help you avoid making some of the most common mistakes of remote video (poor lighting, audio, and overall quality).
Remote customer stories are important because they have the opportunity to connect with the customer on an emotional level, giving them a chance to relate and showing that your product or service is helping real people with real problems.
Another added benefit is that video content can help boost your website's ranking on search engine results pages, which means more potential customers will find you.
How to Capture Great Remote Video
As we mentioned earlier, remote video has the ability to feel incredibly authentic due to the lower image quality. When a video doesn't feel professionally produced, the viewer can potentially feel as though it is less staged and more "real".
Having said that, there are certain quality issues that can be a huge distraction from the content of the video, and may even cause the viewer to stop the video and go back to their regularly scheduled programming. We'll break our recommendations up into two categories: Audio and Video.

Audio Best Practices
Surprisingly, audio is the most fundamentally important technical detail to get right when capturing video. Viewers are much more forgiving of video glitches, but bad audio will quickly drive a viewer to close the tab. Here are some tips for audio:
Ensure the person being interviewed is in a quiet location with no distracting background noises (children, dogs, kitchen appliances etc).

Ask them to turn off all notifications such as emails, texts, slack, etc.

Ask anyone on the call who isn't speaking to mute their microphones.

External microphones are great, but even without them you can get great audio by enunciating and speaking clearly. (Note: Some people don't like the visual aesthetic of headphones/microphones. Here at The Customer Story, we don't mind them because it just lends to the authentic/realistic feel of remote videos. However, if your preference is to go without them you can totally make it work).
Video Best Practices
Most viewers in the post COVID era are used to the lower video quality of a Zoom/Teams/Google Meet call...but that doesn't mean you have to sacrifice all hopes for great video. Here are some suggestions for getting great (or close to it) visuals:
Ideally, find a room with a lot of natural light. If no natural light is available, bright interior lights are ok. (Of course, made for video lights would be great, but we don't expect all the customers we interview to go and purchase lights. Even if we send it to them, the process of setting them up properly is usually too much of a headache for the client to make it worth it).

You want to be facing the light, not be in front of it. Sitting in front of a window or a light can cause your face to be silhouetted or dark.

Remove distracting or messy items from the view of the camera.

Try to have the camera or webcam at a slightly higher level than your face (feel free to use books or other items to prop up the computer if necessary). Sit in the center of the frame.

Position the camera to put your head at the top of the frame, with maybe an inch or two of clearance to the edge of the frame. We don't want to cut off your forehead, and we don't want a lot of dead space above you either.

When speaking, talk to your camera, not the screen.
Bonus Video Tip: Almost everyone has a modern smartphone. Smartphones have incredible, high quality cameras that almost always outperform even the best webcams. Consider asking your customer to set up their phone as a camera. This is our go-to plan for remote testimonials whenever available.
Tips for Conducting a Great Remote Interview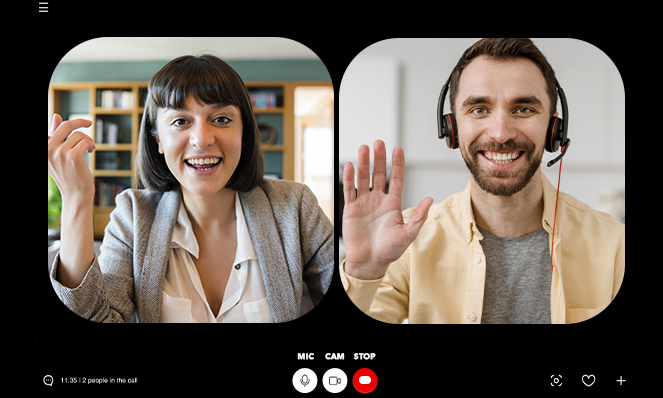 The good news is once you get past the technical details of capturing remote testimonials, the best practices for getting great customer interviews is more or less the same. The bad news is that there a few technical details to get right. We'll go through those first, and then follow up with the rest.
When conducting remote interviews, there are several important tips to keep in mind:
Ensure the customer is comfortable and familiar with the platform you're using. If they're not tech-savvy, give them a quick tutorial on how to use the platform.

Make sure that both you and your customer have good internet connection.

Try to relax and create a personal connection. This is important regardless of remote or in-person interviews, but it's especially critical for remote interviews because you don't have the benefit of physical body language.

Start off on an informal note - talk about what the customer does, their hobbies, etc. You might even want to give the customer a few minutes at the beginning of the call to familiarize themselves with their remote environment.

Make sure to ask open-ended questions that get your customers talking about their experiences, not just yes/no answers. Listen closely and observe body language (even through video!).

Make sure you note when your customer is speaking enthusiastically or is more reserved. This can help you in your follow-up questions.

Allow the customer to go off of topic a bit, as it may lead to great insights.

Be sure to thank your customer for their time at the end of the call - remote interviews can be draining!
FAQs
Q: Are remote video testimonials worth the effort?
A: Absolutely! While remote videos may not be as polished as in-person interviews, they still provide a great opportunity to capture high-quality customer feedback. Remote video testimonials can also be done quickly and conveniently - no need for expensive studio equipment or travel costs.
Q: How long should a remote video testimonial be?
A: Ideally, remote video testimonials should be between 1-3 minutes in length. That being said, it all depends on the story you're telling and how much detail you want to go into. We've had 1 minute videos feel long, and 5 minute videos feel short. Consider your audience and how engaging the story is.
Q: What is the best remote platform for remote video testimonials?
A: There are many great remote platforms for remote video testimonials, including Zoom, Skype, Google Meetings, and more. Ultimately, it comes down to preference - think about your participants' technical abilities and what platform will best suit their needs.
At The Customer Story, we use a platform called Riverside.fm (which was originally created for podcasters). It gives us as producers a lot of technical control while still providing ease of use to our client's customers.
Q: How much do remote video testimonials cost?
A: There are a lot of factors that go into this. If you are doing these DIY, they would virtually be free, especially if you use software that your company already has a license with.
When hiring agencies, we've heard prices anywhere from a few hundred dollars to several thousand. Be sure you ask the agency what is included in the price to make sure you are comparing apples to apples.
Feel free to go check out our pricing for our Remote Video Testimonial Service.
Example of a Great Remote Testimonials
Looking for some inspiration? Check out an example of a remote testimonial video we produced with one of our very own customers, AMN Healthcare:
Wrapping Up
By following these tips and tricks and leveraging the right remote platform, you'll be well on your way to creating engaging remote video testimonials. With remote testimonials, you can capture customer feedback and stories from all over the world that will help build trust with potential customers. So don't wait - get out there and start capturing remote video testimonials.
If you're looking for help capturing remote testimonials, or other corporate video production services, consider giving us a ring - we'd love to help.