Conference Video Production: A Guide on Getting the Most Out of Your Corporate Event
In 2023, corporate conferences are finally starting to be a thing again. Who didn't miss the conference rooms and the business cards, the networking sessions and the inspiring speakers, Las Vegas, Orlando and Austin? ...Ok, maybe some of us didn't miss all of those things.
That said, however, corporate events and trade shows can be a fantastic way to connect with clients, partners, vendors and more. Conferences can be a high ROI activity if you make the most of them.
Leveraging Video to Achieve a High ROI on Your Next Event
One of the ways to get the most out of the next corporate event or trade show you host or attend, is to utilize video production services for your marketing purposes.
In this guide, we are going to walk through several types of video content you can create to increase sales, boost your marketing results, and engage your customers, partners, and employees with your brand.
Conference Highlights Video
Sometimes referred to as "recap videos", these videos are a fantastic way for event hosts and sponsors to showcase the "buzz" and excitement of an event.
With some creative video editing and the right music, you can create an event video that showcases your event in the best possible way. It reminds your attendees of the fun and excitement they had, and also is a great tool to sell and market the next event.
Here is an example of a great recap video we created for one of our clients recently:
Presentation Recordings
This one is probably the most obvious mention on this list. But consider the amount of time and effort that your keynote speakers put into their presentations. Or how much industry expertise is present during panel discussions.
These presentations provide a phenomenal experience for the guests in the audience, but don't miss out on capturing the key messages and fantastic content on video so you can present them to your customers and prospects later.
You can use these videos on your blog, post them to social media, or even gate them as lead gen content. Some of our clients even sell access to their presentations as a virtual event, or training material after the fact.
You can also leverage your post production team to chop up the long format presentations into shorter, bite sized, or "micro content" to post on your social media platforms of choice.
Testimonial Videos
Ok, we may be a little biased here because at The Customer Story we specialize in customer testimonial videos, but it can be a great opportunity to capture interviews while hosting, or even attending, a corporate conference or event.
How often are all of your top clients, partners, and internal thought leaders all in one place? Leverage your network and the space you have to record fantastic customer or partner testimonials.
We often recommend booking a meeting space in the event center itself and designating it as your "video studio" for the duration of the conference (or for at least a day or two). You can set up your lights, cameras, and mics and just cycle people through as their schedules allow.
It isn't uncommon to leave a 2-3 day event with over 10 testimonial videos captured! This is an incredibly effective and efficient way to schedule and produce videos for your marketing and communications team to leverage over the following months and even years.
Here is an example of one video testimonial of many interviews we conducted for our client, with a minimal crew, at their event:
Live Event Video Production
Live streaming quickly became an important piece of our toolset once COVID took its toll on the corporate event industry starting in 2020.
Even now as things reach a new normal. providing your event online opens the doors for even a wider audience and more attendees to catch your event. It also opens the door for increased revenue as you can charge viewers for live access and sell to more people than those who could attend in person.
Another great result of live streaming your event, is you will already have a mixed and ready for consumption event video final product afterwards. Some of our customers even sell access to the recorded versions of the live stream after the fact.
Here is an example of a live fundraising event we produced for our school district client back in 2020:
The Possibilities are Endless
So those are just a few of the options you have when creating video content at your corporate event or trade show. There are really an endless number of content opportunities - product demonstrations, award ceremonies, employee and internal communications and more.
Your Event Video Production Partners
Having a professional conference video production team can provide even more value and benefit for your conference or event. The Customer Story is experienced in handling all of the necessary production work to create content that is impactful, engaging and worth sharing.
Setting clear objectives, ensuring your event videos have high production value with quality sound and lighting, filming pre and post-conference testimonials from participants, create highlight reels for social media, creating longer cut versions for specific audiences, making sure you have signed release forms from footage participants, scheduling editors and graphic designers ahead of time and general promotion tips to drive website traffic...there is a lot that goes into it.
An Event Video Production Company You Can Trust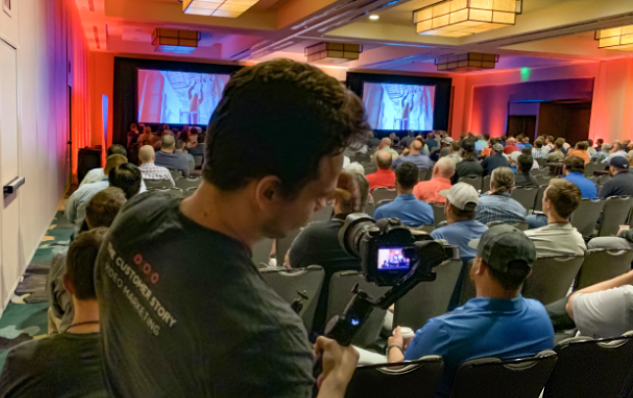 As experienced conference and event video producers, The Customer Story understands all the elements required for successful video production and will work with you to achieve something you're proud of.
To ensure your conference video production is successful and you get the most out of it, it's important to consider factors such as budget, quality, editing and motion graphic services and more. Understanding the conference theme or message can also be beneficial; this will ensure that the conference video aligns with all aspects of your conference.
If you're interested in learning more about conference video production services for your next event, contact us, or visit our event video production page to learn more about how we can help.
If you can capture great videos at your events, you'll have an effective way to showcase your brand in a powerful, engaging medium. Don't miss your chance to get the most out of your event.